This is a sponsored post written by me on behalf of Minute® Rice ONLY because I believe their products make my family's life easier and want to share this 15-minute Peanut Curry Sauce and rice recipe with you because I believe this fast and easy dinner recipe will be priceless.
Welcome to the best day of your life! The day you get the recipe for my absolute favorite family dinner. This 15-minute Peanut Curry Sauce and Rice is the go-to recipe for my home. I keep the ingredients in my pantry at all times to pull out on those evenings when you simply don't have the time and energy to think about dinner. This flavorful recipe is fast, delicious, and nutritious.
Start your Minute® Multi-Grain Medley (another ingredient always in my pantry!) first and then begin your sauce. Mix your coconut milk, water, and curry paste together and let that start simmering itself up to a boil. If you plan on using any veggies that take a bit to soften you want to get those started now, too. I'm all about the sugar snap peas and red peppers in my curry. I would recommend trying broccoli, green beans, mushrooms, bamboo shoots, and baby corn.
Tip: 
If you don't have coconut milk in your pantry you can substitute chicken broth. It has a different taste but is still delicious!
Note: 
I'm a fan of the Minute® Multi-Grain Medley rice because it's super fast, easy, nutritious, non-GMO, gluten-free, and the Thai red rice in this version is a good match for my curry recipes. For realz, keep this stuff in your pantry! Or, whatever version of Minute® rice your family prefers. It will make curry easy!
The secret ingredient…peanut butter. Because we all have peanut butter in our pantries, this addition couldn't be easier. Stir your peanut butter and spices into the milk and curry. Keep that simmering up gently.
Tip:
Use natural peanut butter for the best flavor and consistency. 
If you are wanting spinach, add it in at the time you add the peanut butter.
I know! Isn't that peanut curry sauce just gorgeous! And it was made it in 15 minutes while the Minute® rice was cooking up.
Tip:
Top your sauce with green onions and crushed peanuts.  
Add a scoop of Peanut Curry sauce to a scoop of Minute® Multi-Grain Medley for the ultimate in flavorful, easy, and fast weekday dinners that your family will ask for again and again!
15-Minute Peanut Curry Sauce
Ingredients
1

can coconut milk

1/2

cup

water or chicken broth

1/4

cup

red curry paste

start with 1/2 that amount and work your way up to your liking

3/4

cup

natural peanut butter

1/2

tablespoon

salt

1/2

cup

white OR brown sugar

2

tablespoons

lime juice

or apple cider vinegar
Instructions
Put the coconut milk, water, and red curry paste into a large skillet on medium heat. Simmer for 3 minutes or until it starts bubbling on the edges.

Add in any veggies or meat that you would like. (only add veggies or meat that need cooking. Hold veggies like spinach or green onions until the very end so they don't over-cook)

Add the peanut butter, salt, sugar, and lime juice. Simmer for another 6-7 minutes stirring often.

Serve with chopped green onions, chopped peanuts, and Minute® rice.
Recipe Notes
The temperature of your pan is right if the edges are slightly bubbling. If that isn't happening, turn your heat up a little bit.
Curry varies in heat from brand to brand. Add a small amount at the beginning of the recipe and keep adding as the recipe progresses until you reach the heat you want.

For recipe ideas and special offers from Minute Rice sent straight to your inbox, join The Riceipe Club® by signing up at…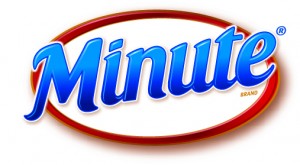 This 15-minute Peanut Curry and rice recipe is sponsored by Minute® rice, a staple in my pantry, and a go-to for creating fast and easy family recipes in my home.