Anything that starts with really awesome must be…really awesome?? Especially if it is the brainchild of C.R.A.F.T.! And we all know how I feel about C.R.A.F.T.! So, when I had the chance to participate in this fun series featuring handmade costumes I jumped up and down, squealed a bit, and then freaked out about what awesomeness I would spit out. ??? I asked Levi what he wanted to be for Halloween this year (I was hoping he would reuse the Skeleton Bat costume)and, so, the tutorial today is the Awesomest Handmade Mummy you ever did see!!!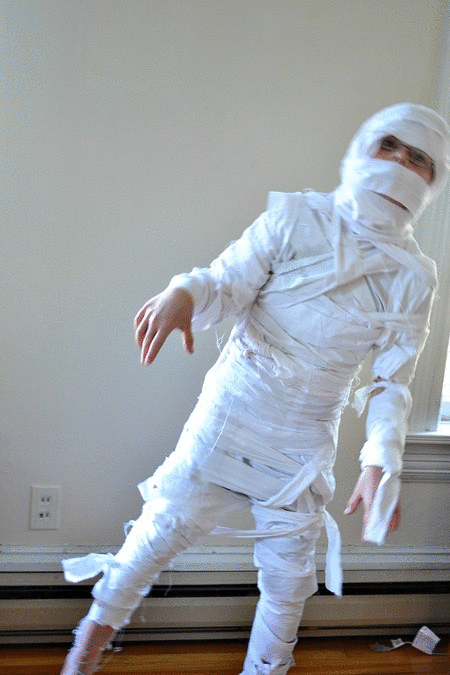 Yes, this costume is easy. Yes, you don't need to know how to do it. But, what if you don't really know how?? What if you are afraid to admit you don't know how?? And, what if your child wants to be a mummy but you have been saying no because you didn't know how to make this costume and you were to embarrassed to say so?? See…I'm doing a service with this tutorial!
Supplies:
white sheet
optional-scissors (but it sure makes it easier!)
0ptional-coffee water (leftover from my perfect latte. Yes, it was perfect. yum!)
To Do:
Rip the sheet into strips. I really do mean rip it. You can start the rip with scissors. But then…rip. You want the strips all jaggedy and stringy….achieved only with ripping.
Soak strips in coffee water until desired color. Levi didn't want bright and shiny white sheets. He wanted them slightly used looking. I would have liked to soak them longer…he nixed that. We soaked ours for about an hour.
Rinse and dry. The best part is that by soaking and rinsing and drying they lose their "newness" . Perfect!
Wrap the strips around the child. I recommend the child be wearing white, if possible. Tie one strip to the next to the next to the next (etc…) as you go. Leave bits out here, and don't be perfect!! And…perhaps…if you are a nice mom…do the strips in such a way that the bottom half can be removed if necessary and rewrapped (like in the case of needing the bathroom??). I may skip this kindness :). Being honest here, people.
Whiten the skin a bit with some face paint, powder, or skip this if you like.
p.s. This costume cost me the price of the fitted sheet of a clearance set. $6.00. yep. winner!
Now you know how to create the Awesomest Homemade Mummy costume you ever did see. Halloween this year you will be the momma with the skillzz! And be sure to pop over to Really Awesome Costumes if my mummy costume isn't right for your kid (but really, let's be honest…as if!)!