Hello lovelies! I'm in the midst of moving and grabbed Wi-fi long enough to bring you this guest post from the lovely Jessi! Please be sure to pop over to her site and show her love and thanks for helping me out. Thanks Jessi...you rock my socks off!
Hey there†Nellie Bellie†readers! I'm super excited to be sharing a quick and easy tutorial for updating your rental kitchen cabinets! Our kitchen needed a little brightening up, so I added a splash of color by wallpapering the back of the cabinets. And the best part is, the wallpaper is 100% removable so it's renter-friendly!
But first, let me introduce myself! I'm Jessi, and I blog at†Practically Functional, a blog†about†simple, practical projects and ideas to help you love your home, no matter where you live.
We live in a tiny apartment and don't own a car, but that doesn't stop me! I decorate, I craft, I DIY, I build, I organize, I cook, I even garden! We love every single square foot of our little home, and Practically Functional can help you love yours too, no matter where you live! And don't worry, I'll give you detailed instructions and pictures in every tutorial, so stop by for a visit and see if you can find some inspiration!
Now onto the kitchen cabinet updates!
Update Your Rental Kitchen Cabinets With Wallpaper
I love our kitchen: it gets a ton of natural light, it's big enough for two people to cook at the same time, and it has a TON of counter space! The only thing I don't like about it is that the room feels kinda dark and oppressive because of the dark walnut cabinets.†Luckily it was really easy to fix that; I added wallpaper inside the cabinets for a splash of color!
And the best part is, this wallpaper is removable! That's right, REMOVABLE!!! You can just peel it off and wipe up the stray glue with a damp sponge, and there's no hint the wallpaper was ever even there!
Wallpaper is the PERFECT solution for updating your kitchen while living in a rental because it makes a huge difference and it doesn't have to be permanent.†Plus, wallpaper comes in a thousand colors and patterns, so you're sure to find the perfect fit for your style!
NOTE: A lot of wallpaper is permanent, so be careful that it says it's removable before you buy it! The wallpaper I used came from†Spoonflower; they have tons of designs and all their wallpaper is 100% removable!
Here's what you need:
wallpaper
painter's tape
a sponge
a rubber spatula
an X-acto knife
a pencil,†a ruler, and†scissors (for measuring and cutting the wallpaper)
Your wallpaper will come with instructions on how to install it, and you should follow those directions! I'll tell you how I installed our wallpaper, but a lot of it was wet and sticky, so I left my camera in its case and didn't take many pictures until it was finished.
The first thing you need to do is empty out your cabinets, remove the shelves if you can (our shelves are permanent, which made the entire wallpapering process very interesting!), and clean all of the surfaces that the wallpaper will touch.
Then measure your cabinets and cut strips of wallpaper to size. In general, when you hang wallpaper you want to hang it starting from the top of your wall or cabinet in one long unbroken strip all the way to the bottom. Then place a second strip to the right of the first, slightly overlapping on the left edge. And so on until you reach the right edge of your wall or cabinet.
When cutting wallpaper, always leave an extra inch or two; it is MUCH easier to cut extra wallpaper off after it is dry than to get it exactly the right size before installing it. As you're measuring and cutting your wallpaper, make sure that you account for overlap so that you can align the patterns as you install it!
This is the part I don't have pictures of, but the first step is to wet your wallpaper. We just filled our kitchen sink with about four inches of water for this part, but you can use your bathtub if you have bigger strips of wallpaper.
Gently fold the wallpaper with the printed side in and submerge it completely in room temperature water for about 15 seconds. Then pull it out of the water and lay it printed side down, glue side up. If your wallpaper strip is really big, just fold it back in on itself, glue side against glue side. Don't worry, it won't stick to itself this way, but make sure not to let the glue side touch anything else.
Let the wallpaper dry out for 1-2 minutes so it isn't TOTALLY soaked, and then it's time to install it! Start by lining up the top edge of the wallpaper with the top of your wall or cabinet. I found it easiest to start in one corner. The wallpaper will sort of stick to the cabinet at this point, but you'll still want to tape it with painter's tape once you have the top edge lined up so that it doesn't slip down and leave a gap as it dries.
Once it is taped at the top, take a slightly damp sponge and press the rest of the wallpaper onto the cabinet or wall, starting from the top and moving down. Make sure to go slow and get rid of any air bubbles between the wallpaper and cabinet. If your sponge gets too wet, just wring it out and keep going!
You'll want to make sure you get the paper all the way down into the bottom edge of your cabinet before it dries. There will be some extra which you will cut off once it's completely dry, but while it still wet you need to make sure you've covered the entire cabinet, all the way down to the bottom. Here's where the rubber spatula comes in! Use it to gently press the wallpaper down along the bottom edge; the rubber is soft enough that you won't rip the paper, but it's strong enough to really get the paper into the corner.
Once your top edge is taped and you have a nice solid crease in the bottom edge of your wallpaper, you're done! With that one strip...
Repeat the process for each strip of wallpaper, making sure to carefully align the patterns with the previous strip as you go. Don't worry if your paper hangs over onto the shelf above or below, or if it wraps around the corner on either side; it's very easy to remove the extra paper once it's dry!
We let our wallpaper dry overnight, but you can usually get away with letting it dry for 3-4 hours if you want to do it all in one day.
Once the wallpaper is dry, gently remove the tape. Then take an X-acto knife and cut right into the corners of the cabinet to remove any excess paper.
If you're careful as you cut, you'll get a perfectly straight line!
As you peel up the extra paper that you cut off, it will leave a white glue residue on your cabinet. But don't worry, that wipes right up with a slightly damp sponge!
I also removed one set of cabinet doors completely so we have easier access to our dishes, and so we can always see the wallpaper peeking through from the back of the cabinet! If you are renting, just unscrew the hinges from the cabinet and store the doors away somewhere safe; you can always re-install them before you move out!
I love how the yellow wallpaper looks behind the white and green dishes! If you like the yellow quatrefoil pattern that I used, you can find it here.
On the other side of the kitchen I left the doors on the cabinets, but that fun yellow wallpaper still shows through behind all the food in our "pantry"! I probably need to redo my†magnetic spice rack†cuz that purple and blue no longer matches with all that yellow. :-)
I have a bunch of this wallpaper left over... I'm thinking I'll wallpaper inside the kitchen drawers next; they need a bit of color too!
What would you wallpaper in your home? Wallpaper has come a long way from the horrid floral prints you'd find in a grandmother's house, there are definitely a bunch of ways I could imagine using it in our apartment to brighten up the place!
Thanks a ton to Janel for letting me share this with you guys today! If you like the project, make sure you stop by Practically Functional to see tons of other rental-friendly home decor and DIY ideas! I'd love to see you there!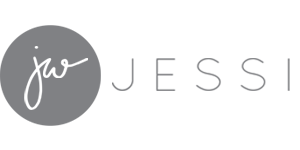 If you love Jessi's tutorial for how to update your rental kitchen, you might also like:
essential kitchen supplies (for rentals)
rental office