my version.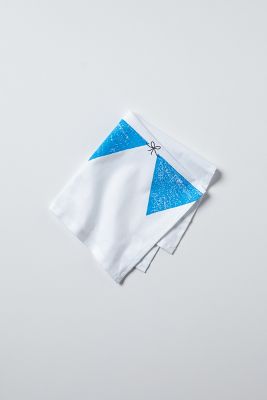 Anthro's version.
You need:
white napkins (mine are cheap-o's from Wal-mart)
craft paint (I use all-purpose from Martha Stewart, love that stuff!)
black fabric marker
painters tape
a paint brush (a cheap foam brush works well!)
To Do:
First, tape off your triangles. Don't worry about being perfect.
Second, paint the triangles.
Paint them all one color if you like, or multiple color like I did here.
Third, use your black fabric pen to add your little bows and swag in between the triangles.
Wait for the whole shabang to dry and you have napkins BETTER then the original!
Note: if you used proper paint these ARE washable.
Fabulous napkins on your fabulous table!! Probably set with a set of fabulous placemats, served with fabulous cheesecake, and fabulous latte's. Yes.
this post was first seen on Positively Splendid
Linking here: