Spring week is happening at some of the bestest blogs in blog world this week!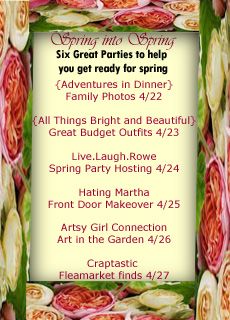 Did you miss the past few days?
That's sad.
Adventures in Dinner had some darling photos of her daughter.
All Things Bright and Beautiful had great budget outfits yesterday.
Live. Laugh. Rowe is all about spring parties today!
Tomorrow will be my turn. So be getting those porches beautified and ready to link!
(And don't forget about those darling earrings that are free to a commenter (will you be the one?).
Just go HERE to comment and get yourself a chance!)
Okay, on to today's project. Forward!
Today's post is sponsored by the lovely folks at Plaid paints!
This week Hating Martha is all about porches, stoops, entrance…whatever you got that let's you in your house.
As I was browsing the products out there for jazzing up my house opening I saw these…
(Anthropologie)
Aren't they lovely. But, as these are from Anthropologie they are faaarrrr outside of my budget!
So, I figured out what I loved about them and came up with my own version, a house number plaque…

How cute is that?
You want one of your own?
Why, it will cost you $1 for each number and $4 for the wood.
Oh, and some Plaid Outdoor paint in the colors you want.
Can you handle that cost? It's so much better then Anthro's prices…isn't it!
This is the fabulous set of paints that Plaid sent me.
It was the perfect thing for the job…loved it!!
I've almost used it up and will most certainly be out to get more!
You will need a wooden plaque large enough to hold as many numbers as you need.
You will need your numbers…doh!
And paint.
Ignore the little people, I had a brilliant idea that wasn't so brilliant.
Paint your plaque white.
I recommend this color from Plaid it is nice and bright!
See…bright!
The laisy daisy designs and color is what I liked best about Anthro's version.
I tried to do some random designs along with some patterns.
But, I made sure to use color! That kit from Plaid got put to good use, I tell you!
This glittery red from Martha Stewart is great for the numbers!
I wanted a bit of sparkle for them and this paint did the trick!
Attach those numbers onto the dried plaque and walah…
(note: you may need to change out the nails given with the letters with shorter ones)
I'm loving this on my house! And I am loving saving money…yes please!
Til Next time !
Linking up this post with these happening places…
-Mommy by Day, Crafter by Night--Gingersnap Crafts--Lil' Luna--Sugar & Dots--Tip Junkie--Christina's Adventures–Young House Love-